"Stocker Loves to Care"
August 2022
Stocker Subaru, in partnership with the Leukemia & Lymphoma Society, delivered blankets, messages of hope and craft kits to the Mount Nittany Cancer Center.  They are for patients receiving treatments to keep warm and the craft kits to occupy their loved ones while they wait.
 By the end of the year, thanks to the work with Subaru of America and Subaru retailers nationally, 230,000 blankets will be delivered to cancer centers across America.
We hope they will spread warmth, love and hope where they're needed the most, and let these strong people and their families know we care.
Pictured: Laurie Voinchet, Skyler Wilsoncroft, Mary Rivera, Ashley Mekis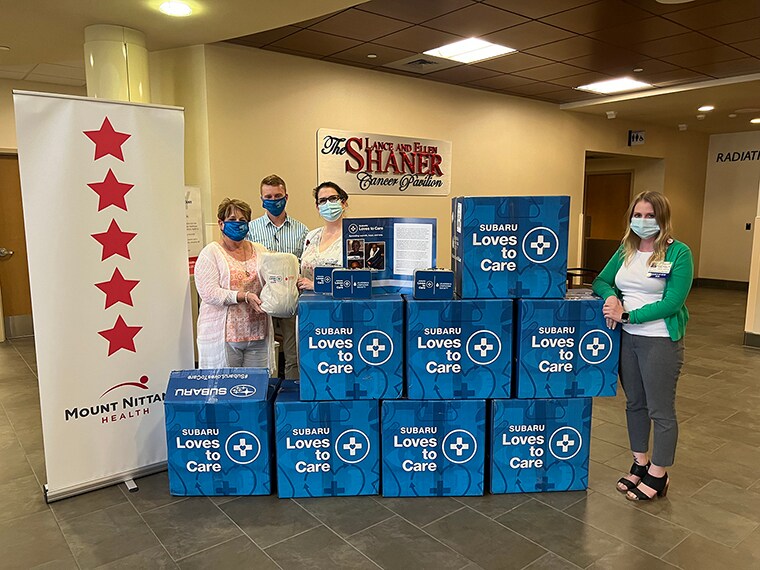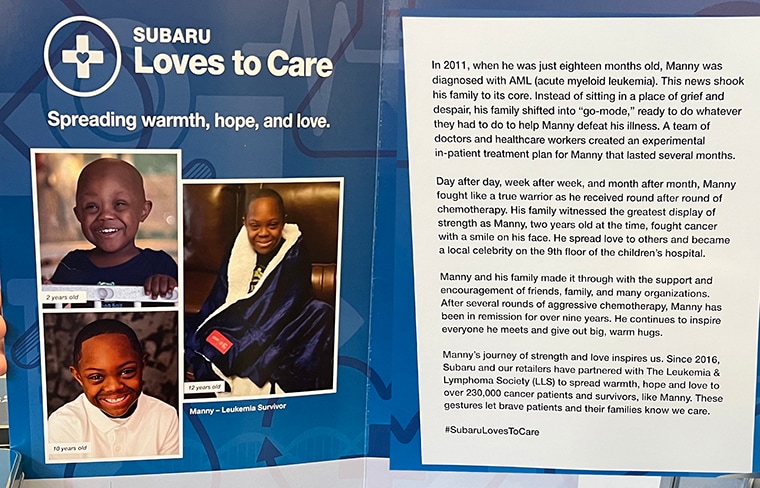 October 2020
Just had the first Early Bird drawing for the Pets Come First raffle. This one was worth $500~! Winner is Lexy Prosek. The winning ticket was drawn by Eve Hocker a customer getting her car serviced today~! Thanks Lexy and congratulations for supporting Pets Come First~! This ticket will be put back in for the Car and or Cash drawing~!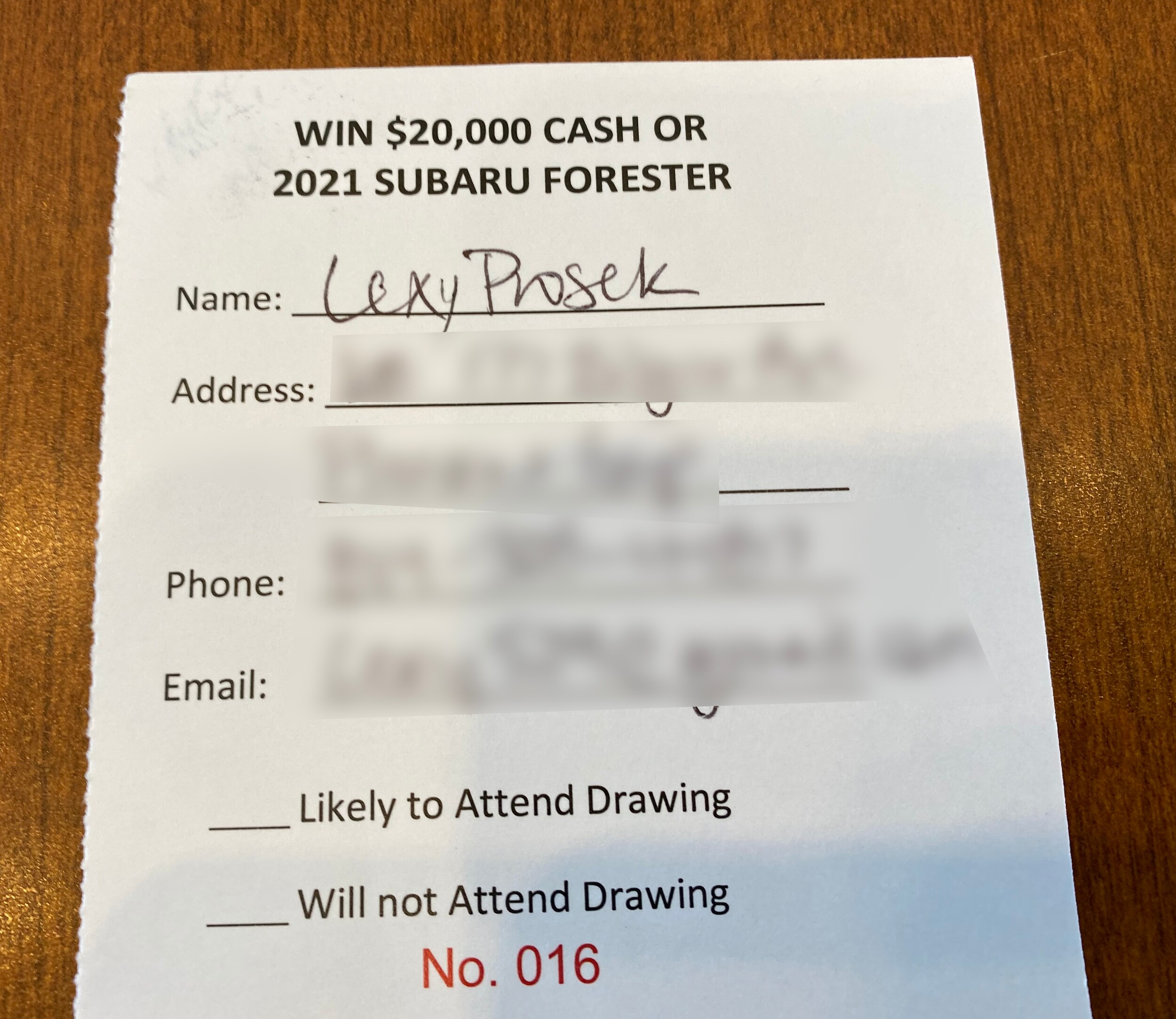 March 2019
"Share The Love 2019"
Stocker Subaru & YSB - Share the Love Event 2018-19
Stocker Subaru, the Stocker family, and their entire team have been longtime supporters of the Centre County Youth Service Bureau (YSB). Making kids matter and giving back are staples of their business and personal values. During the 2018 holiday season, they showed this once again by selecting YSB to be the recipient of funds from their annual Subaru Share the Love Event. Today I am pleased to announce that Stocker Subaru raised more than $18,000 that will go to helping kids and families in our community. YSB is a private nonprofit that has been serving kids and families in Centre County for over 50 years. Programs and services are funded through federal, state, and local dollars, grants, county contracts, and miscellaneous sources. Each year YSB must raise more than $600,000 from public contributions and major fundraising events to help meet the overall goal. Our youth centers, Big Brothers Big Sisters mentoring program, and Street Outreach Program are all in need of these public dollars. Thanks to generous donors like Stocker Subaru, we are able to offer an array of services and programs that are not fully funded by other sources. Thank you Stocker Subaru for making kids matter!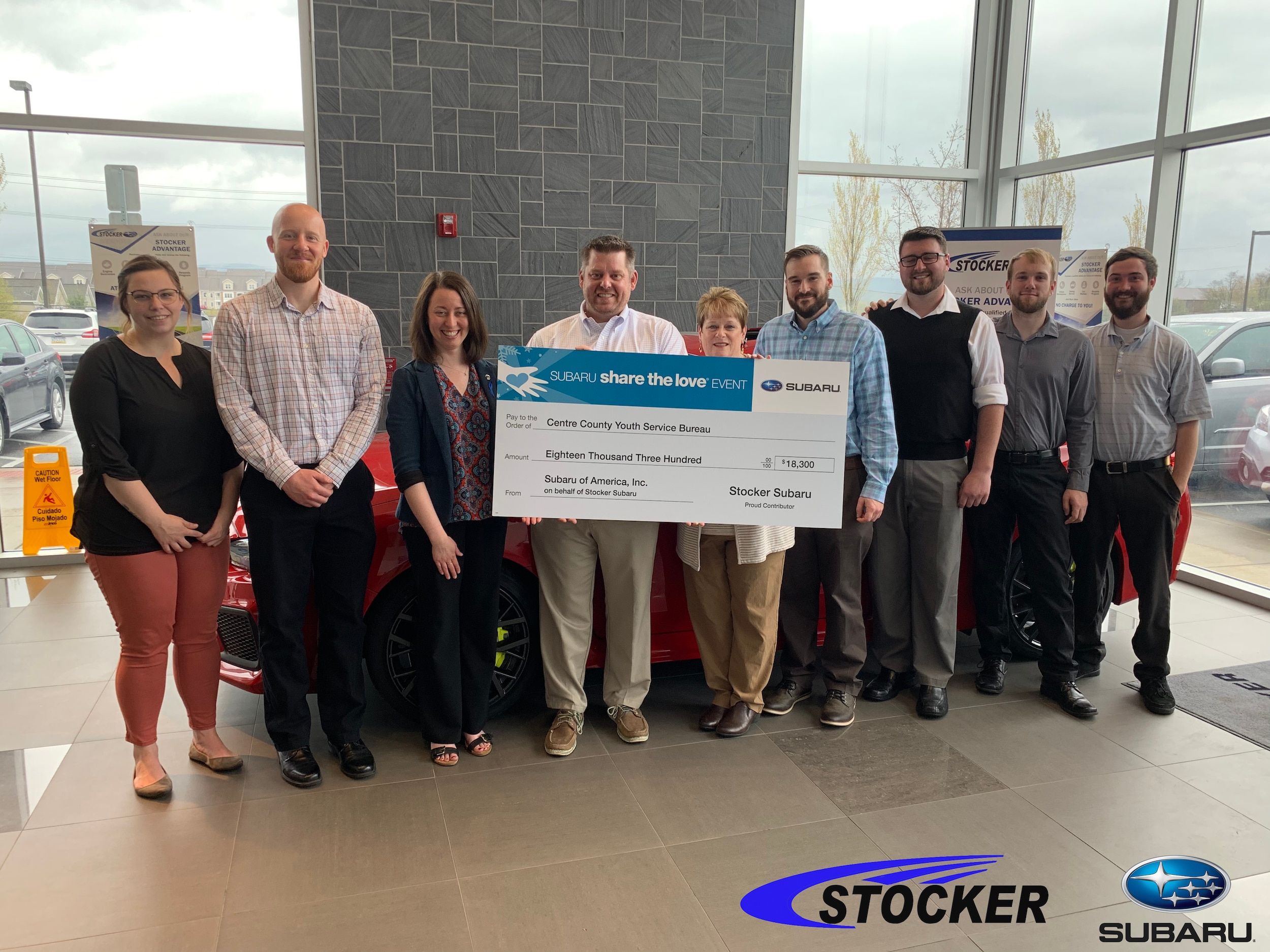 June 2018
"Stocker Loves to Care"
Stocker Subaru, Subaru AND THE LEUKEMIA & LYMPHOMA SOCIETY (LLS) continue partnership to send hope, love and warm blankets to cancer patients.
Stocker Subaru will be donating 80 blankets and 50 arts and crafts kits to the Cancer Institute at Mount Nittany Medical Center.
Please click here for the whole story~! : See More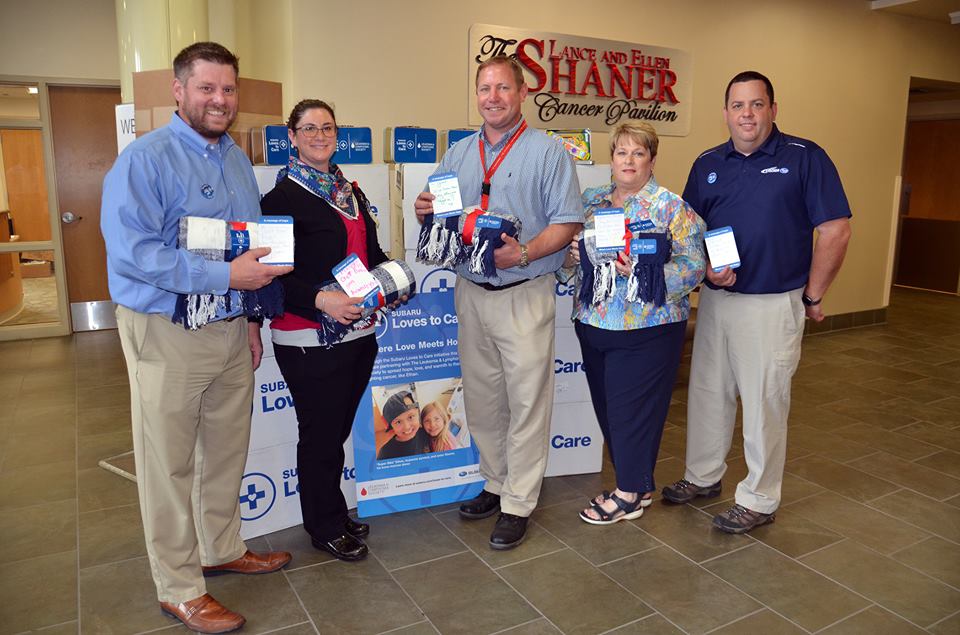 March 2018
"Share The Love 2018"
Garrett Herrmann from Subaru came today to present the check from Subaru to Deb Warner at Pets Come First. This check represents the "Share The Love" promotion final total that was donated from Subaru over the winter. Our Great Great Subaru Customers chose Pets Come First as their charity. A New record~! $17,331~!
Thanks Deb and your employees for doing such great work for this worthy cause~! Pictured left to right are, Erin Barton (sales), Garrett Herrmann (Subaru Rep), Cory Stocker, Deb Warner, Luke Vonada (sales), Laurie Voinchet (sales), Branden Weaver (Sales Manager) and last but not least, Kyrin Bingaman (sales). We thank them all~!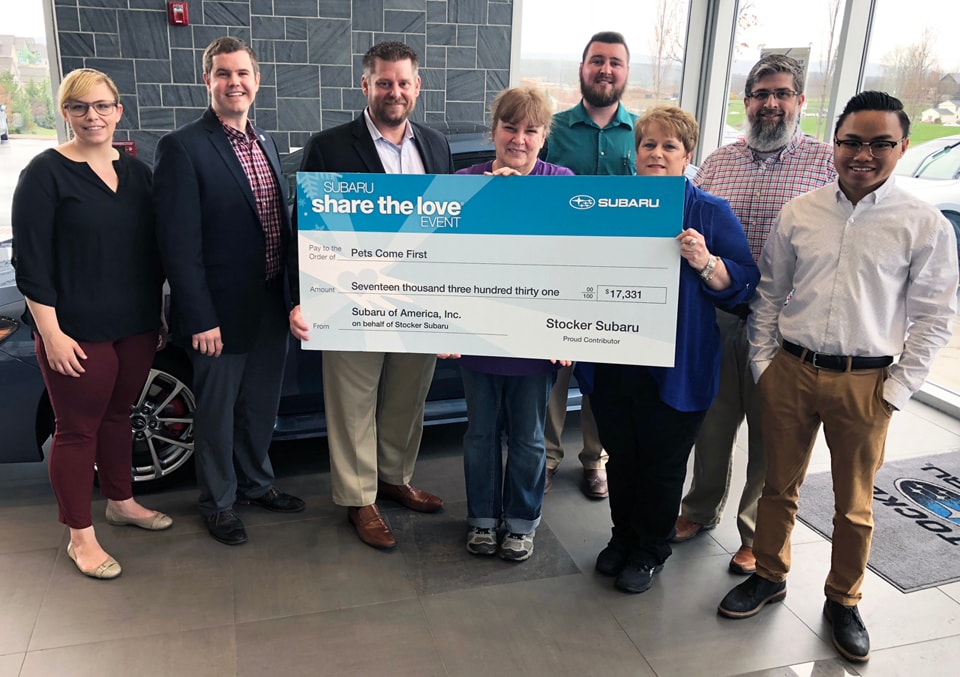 March 2017
Stocker Share The Love Event Proceeds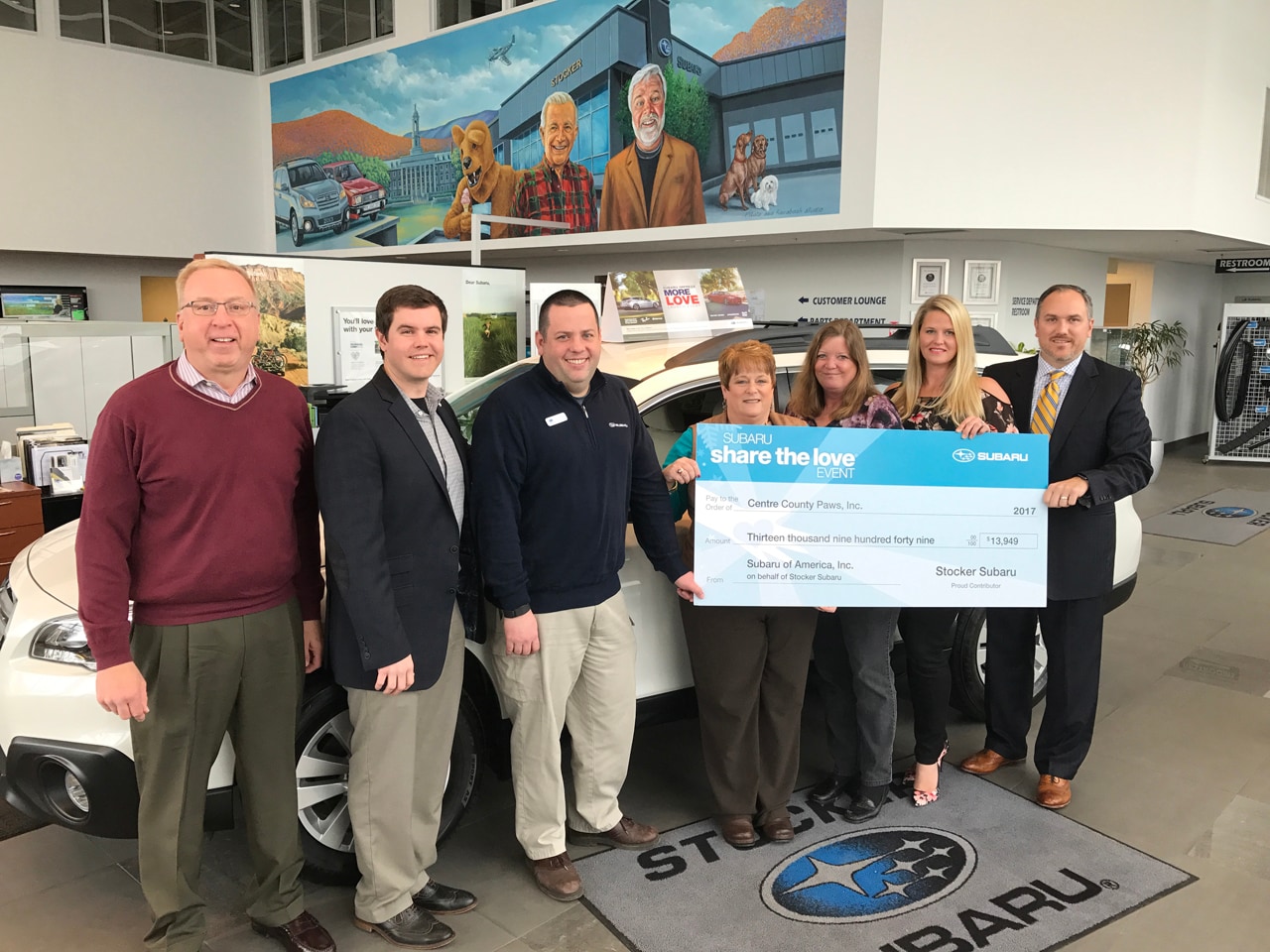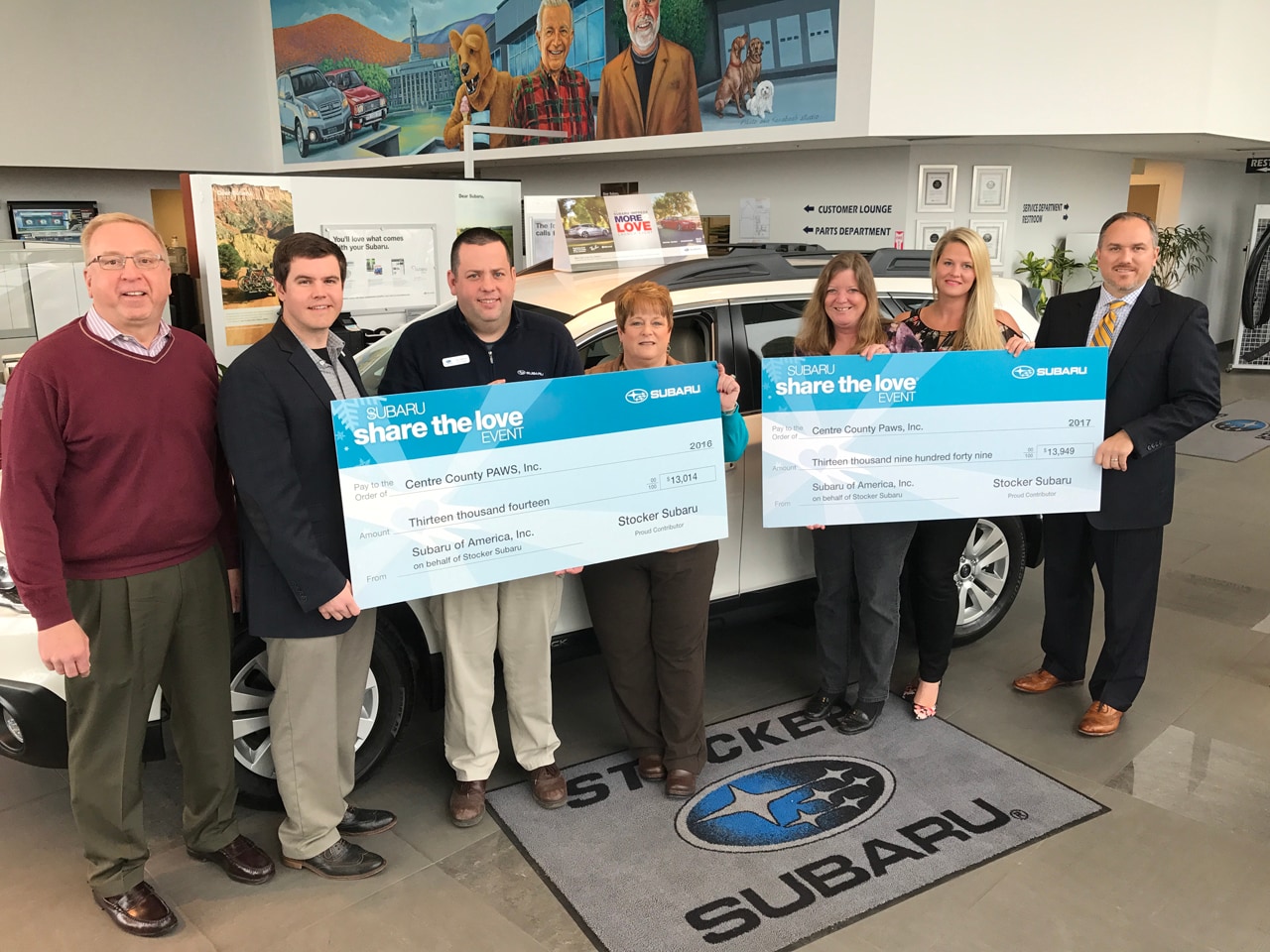 Subaru donated to Paws this year as our selected local charity and received more donations this year than last~! A great job from our employees and our awesome customers~! Pictured in this snap from the check presentation:
Left to Right
Dave Abler, President Paws. Subaru representative, Garrett Herrmann. Service Manager Subaru, Guss Soellner. Sales consultant Laurie Voinchet. Paws Director of Development & Marketing, Christine Foust. Office Manager Jamie Tabaka and Sales Mana
ger, Mark Tabaka.
Thanks to all involved~!
SUBARU 2016 SHARE THE LOVE® EVENT GENERATES MORE THAN $24 MILLION IN CHARITABLE DONATIONS
Ninth annual Share the Love event benefits national and local charity partners, more than $94 million donated to charities throughout life of campaign Cherry Hill, N.J. - Subaru of America, Inc. today announced it has donated more than $23.4 million to national and local charities during its annual Share the Love event in 2016, bringing the total donated throughout the life of the program to more than $94 million. Held at the end of each year, Subaru donates $250 for every new Subaru vehicle sold or leased to a host of charitable partners, per the selection of each customer.
This year's ninth-annual Share the Love event continued its contribution to four national charities, including the ASPCA®, Make-A-Wish®, Meals on Wheels America and National Park Foundation. In addition, each Subaru retailer selected a hometown charity from their local community to support, adding more than 660 local causes to the Share the Love campaign. Select local retailers also participated in the hometown charity donation matching program totaling $1.3 million which, paired with Subaru of America's existing contribution, culminated in a donation grand total of $24.8 million to national and local charities.