The 2021 Subaru Love Promise Community Commitment Award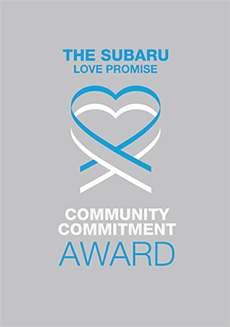 We've been nationally recognized for our dedication to our community and the Subaru Love Promise.
We're honored to receive the 2021 Subaru Love Promise Community Commitment Award. This award nationally recognizes Subaru retailers who are making the world a better place while demonstrating an outstanding commitment to supporting passions and causes in local communities. These efforts are focused in important areas such as the environment, community, health, education, and pets.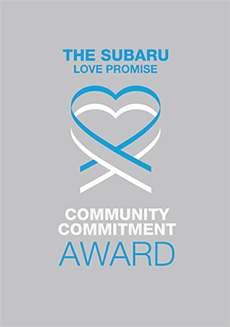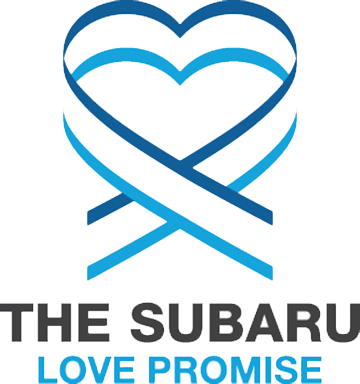 What is the Subaru Love Promise?
Subaru and our retailers believe in making the world a better place and the Subaru Love Promise is our vision of respecting all people. This is our commitment to show love and respect to our customers and to work to make a positive impact in the world.
How is Stocker Subaru dedicated locally to the Love Promise?
Our Love Promise can be seen in various partnerships with local charities and non-profits. We're grateful for the opportunity, not only to be a part of our community, but to serve it as well.
SSpring Mills Fish and Game, Nittany Valley Longbeards, Ruffed Grouse Society, Centre County Jr, Livestock 4 H
Penn State Athletics, Our Lady of Victory Church/School, St, Joseph Academy
Wounded Warriors, Nittany Valley Symphony, Pleasant Gap Fire Company, Bellefonte Lions Club, Centre County Youth Service Bureau
American Cancer Society,Mt.Nittany Medical Center, American Cancer Society, Bob Perks Foundation
Love Promise Stories from Stocker Subaru
Subaru and Stocker Subaru believe in making a positive impact on the communities in which we live and work. We uphold that belief through our Love Promise Community Commitment. Every month, we select inspiring stories from customers and partners from around our area who strive to support our collective commitment and feature them here
A Pandemic Can't Stop The Love - Jennifer K
The Central Pennsylvania Food Bank has seen an outpouring of support from the community that has been incredible. Thousands of generous individuals and companies have helped to Give Hope Now, but our work is far from over. The Food Bank has seen demand for food assistance increase more than 40% in the past year and expects demand to remain at these high levels for the next two years. With a "strong front" to combat hunger, the Food Bank and its more than 1,000 partner agencies and programs provided over 50 million meals this past year. But community support is what gets the job done - volunteering, donating and raising awareness all contribute to addressing food insecurity across Pennsylvania. Thank you Stocker Subaru for your generous donation of 94,179 meals to the Central Pennsylvania Food Bank. Together, we can end hunger. https://www.centralpafoodbank.org/
---
Paprika's Story - Shannon N
In June 2020 in the midst of the COVID pandemic, we received a call about a dog that was found on the side of the road and had apparently been hit by a car. The finders were able to transport the dog to a local veterinary clinic where she received initial treatment for air on the lungs and she was stabilized. We were contacted by the local vet because the dog needed additional around the clock care. We then transported her to another local vet where she could receive further treatment and be under 24 hour care for multiple days. She had trauma to her head that left her blind and had nerve damage to her front leg. At that point, we did not know what her long-term prognosis would be, and only time would tell how she would heal. After a search, the owner was found and she was surrendered to us to ensure that she could receive the appropriate care that the original owners were not able or willing to provide. We named her Paprika, and she moved into a quiet foster home where she was monitored for 4 weeks to better understand her long term prognosis. She made slow progress at first, but her sight appeared to be coming back and she started trying to use her front leg that had the nerve damage. As you can imagine, we have acquired a significant vet bill from Paprika's overnight stays. Funds received through our partnership with Stocker Subaru helped to pay her bills and support her care while in the foster home. These funds also go to support the over 500 animals that are adopted from us each year. We are so humbled and appreciative of the ongoing support from both the business and the individual employees of Stocker Subaru. Paprika continued to heal and progress wonderfully, and throughout her time at the foster, we had very many people express interest in adopting her – but one stood out from the others. We are so happy that her new adopter was the first person that found Paprika that day she was hit by the car. We could not think of a more perfect ending to Paprika's story with us, and the start of her new life! We are so thankful to the Good Samaritans that found her and stepped in to help, and to both vets for caring for her in this emergency! And to Stocker Subaru for continuing to support our work for the animals in need in our community!
---
Great Performance - Molly H
I have to say that not only is Laurie Voinchet a great sales manager but she has Awesome Customer Service Skills which is the main reason I went with your dealership even though I live 2 1/2 hours away. She more than knocked it out of the park for me. She is not like other sales people that just try to sale; she took the time to listen to me about what I wanted. I Love my new Crosstrek. Well done Laurie & I am telling Everyone how great you are. Another family member will be calling you tomorrow for their new car.
---
Shelter Supplies - Garrett L
Deb Warner of Pets Come First came in to pick up these pet owner kits, shelter supplies and customer drop off donations for the shelter. Subaru partners with the national ASPCA and Stocker Subaru to assist with the day to day supplies these shelters so desperately need for the adoption of animals to their forever homes.
---
Subaru Car giveaway - Luke V
Pets Come First and Stocker Subaru held an event and SOLD OUT 3000 raffle tickets for the chance to win a 2020 Subaru Forester or $20,000 in CASH!! A drawing reception party was held with lots of raffles, giveaways, refreshments, and dogs looking for their forever homes!!
---
Subaru Share the Love Love your heart event - Robert Y
Stocker Subaru Share The Love, Love Your Heart Event, Monday December 16, 2019 from 11-3 pm in the showroom Stocker Subaru in support of our local Share The Love Charity which this year is The Mount Nittany Cardiovascular Pavilion. During the holiday season would you know how to assist a friend or family member in a cardiovascular emergency? Come on in and let us show you what to do.We will be giving CPR, AED defibrillator and choking demonstrations by certified instructors.Informational handouts to assist family and friends on how to preform CPR and the Heimlich maneuver.Get your blood pressures checked!Stop by for refreshments and register to win prizes!!!Every Subaru sold between November 14 and January 2nd Subaru will donate $250.00to our local charity or one of four others. This year the charities are Mount Nittany Hospital, Meals on Wheels, ASPCA, Make a Wish and National Parks and Stocker Subaru will donate an additional $50.00 per vehicle sold.
---
Share the Love, Love Your Heart Event - Laurie V
This December 16, 2019 Stocker Subaru held an event to support our Share the Love Charity ~ Mount Nittany Hospital Cardiovascular Wing. Would you know what to do if a family member or friend had a heart attack or might be choking? We had Bob and Cindy from Penns Valley EMS to demonstrate the use of an AED machine, CPR, choking techniques and blood pressure checks.Statics show that many more heart attacks and choking issues happen during this season as we may tend overindulge on holiday foods and traditions with family and friends. Jeff Brown from the BUS radio was here to join in the festivities. Simon Corby from the Mount Nittany Hospital came to speak about the new wing. We held drawings for Subaru prizes and giveaways to customers and radio listeners. Lots of great food too! The Share the Love Event ends of January 2, 2020. You still have time to stop by and purchase a new Subaru and have $250.00 donated to our local charity or one of the other four. Make A Wish, National Parks, Meals on Wheels and ASPCA. Stocker Subaru will donate $50.00 per car to the charities also.
---
Stocker Subaru & YSB - Share the Love Event 2018 - Zach B
Stocker Subaru, the Stocker family, and their entire team have been longtime supporters of the Centre County Youth Service Bureau (YSB). Making kids matter and giving back are staples of their business and personal values. During the 2018 holiday season, they showed this once again by selecting YSB to be the recipient of funds from their annual Subaru Share the Love Event. Today I am pleased to announce that Stocker Subaru raised more than $18,000 that will go to helping kids and families in our community. YSB is a private nonprofit that has been serving kids and families in Centre County for over 50 years. Programs and services are funded through federal, state, and local dollars, grants, county contracts, and miscellaneous sources. Each year YSB must raise more than $600,000 from public contributions and major fundraising events to help meet the overall goal. Our youth centers, Big Brothers Big Sisters mentoring program, and Street Outreach Program are all in need of these public dollars. Thanks to generous donors like Stocker Subaru, we are able to offer an array of services and programs that are not fully funded by other sources. Thank you Stocker Subaru for making kids matter!
---
Stocker Surprises Cancer Patients with Gifts - Breanna S
For the second straight year, Stocker Subaru partnered with The Leukemia & Lymphoma Society (LLS) on their month-long "Subaru Loves to Care" campaign. On July 6, members of the Stocker team had the opportunity to deliver blankets to patients receiving treatment at the Cancer Institute at Mount Nittany Medical Center. Stocker Subaru donated a generous 80 blankets to the facility, along with 10 arts and crafts kits and numerous messages of hope. Desiree Young of Mount Nittany's Cancer Care Partnership told LLS that the patients were touched to know that so many others were thinking of them. Mount Nittany's staff was thankful to receive these blankets because they're so useful for patients who get cold during treatment. Along with the blankets, Stocker brought stacks of heartwarming notes written by Subaru customers meant to inspire these patients throughout their battle. The experience was moving for all involved, and LLS owes a debt of gratitude to everyone at Subaru of America and Stocker Subaru for making this program possible. Thank you for joining us in our mission to cure blood cancers and to improve the lives of patients and their families throughout our local communities.
---
Subaru and NWF Loves the Earth - Kristen A
We had two grants for this garden, one from Lowes and one from Subaru. We also had massive help from a local organization called Penns Valley Conservation Association. They arranged for the beds to be built and solicited plant donations. We are proud of our little garden! Each grade K-6 had a hand in helping make this possible
---
LLS Donation - Nicole S
Stocker Subaru is excited to give back to their community with the Leukemia & Lymphoma Society. Stop in during the month of June to see the New Subaru's and to join them in sending messages of hope to those fighting cancer in our community. Fill out inspirational quotes and get free wristbands to show your support. Stocker Subaru will also be giving blankets for cancer patients at Mount Nittany Medical Center. Come and help the cause!
---
An Outstanding Sales Woman - Rus B
My wife and I bought a Subaru Outback from a young lady at the Subaru Building. Erin was here nam. I'll never forget it. She was new, fresh, full of knowledge and made our experience great. We are originally from New York and would have never been showed the courtesy she showed us. You have a really great sales staff and I would recommend her and your dealership to anyone. Thank you for providing her with such amazing training and knowledge, but letting her have her own bubbly, happy personality on top of that. We have a dog that is very old and she gave us a toy car that just made my dog extremely happy. Thank you Subaru and Stocker Subaru! A Very Happy and Now Loyal Customer! The Burs
---
Subaru Loves Learning Book Drive August 1 - 31 - Danielle S
Join us in our Subaru Loves Learning initiative during the month of August! We are partnering with the American Association for the Advancement of Science (AAAS) in donating science books to Our Lady of Victory School and Saint Joseph's Catholic Academy. All of the books that will be donated have been recognized by AAAS as some of the best science books in their field. Contact us to learn more information.
---
Stocker Subaru and Centre County Paws - Laurie V
Stocker Subaru has Shared the Love with our local animal shelter Centre County Paws for the past 6 years. PAWS is a shelter that is committed to finding forever homes for cats and dogs, providing spay/neuter assistance and educating the public on responsible pet ownership. Every December Stocker Subaru partners with PAWS to have an on site pet adoption at our store. We have a Subaru at the shelter to fill with pet supplies and also in the showroom. We also have live radio remotes on site inviting people to come by to donate food and supplies to the shelter and are given prizes from the dealership. In 2013 we raised over $7000. With these funds the shelter was able to employ a part time animal technician to provide medical care for the pets. The shelter is staffed by mostly volunteers and a great number of these people are current Subaru owners. This is also great word of mouth advertising for Stocker and Subaru. We hope to continue this partnership for many years to come.
---