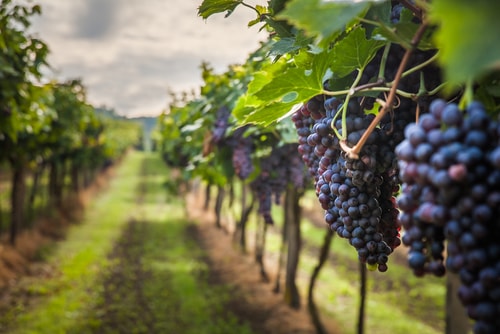 We're very happy at our State College car dealer, Stocker Subaru. We're happy because we sell Subaru. We add to our happiness after work by enjoying the wine at Happy Valley Vineyard at 76 S. Foxpointe Drive in State College.
Happy Valley Vineyard, established in 1999, is built upon land first settled for farming in the 1850s. The vineyard started on three acres but has since tripled in size to 9.5 acres. Both white and red grapes are grown. The climate of Centre County and the limestone soils yield wines with distinctive varietal character.
The winery was built in the 2010 and the first vintage followed in the fall of 2010. 90% of the grapes that are used to make our Happy Valley's
wines and considered "Farm to Bottle". They grow over 10 different varieties at the vineyard which allows their creativity and quality to shine through in every bottle. From dry fruity whites to oaky full-bodied reds they make them all. Two of their customer favorites are Appalachia Red, a sweet blend, and their award-winning Ice Wine. You will want to try them both!
A great thing to know about Happy Valley is that they use regional materials and abide by the principals of sustainability. The bottles and glasses they use are made from regional products. Cold well water is used to chill tanks rather than using refrigeration. All byproducts of winemaking like stems, skins, seeds, lees and filter pads are composted. That compost is then spread into the vineyard. Responsible genius!
Stocker Subaru Serves Up Award Winning Service
Our award winning service at Stocker Subaru is legendary among Subaru dealerships in PA. Our staff is like fine wine so come have a taste of what makes us the best! Stop by.
Stocker Subaru
1454 Dreibelbis Street
State College, PA 16801
Phone: 814-568-3004
Website: https://www.stockersubaru.com/