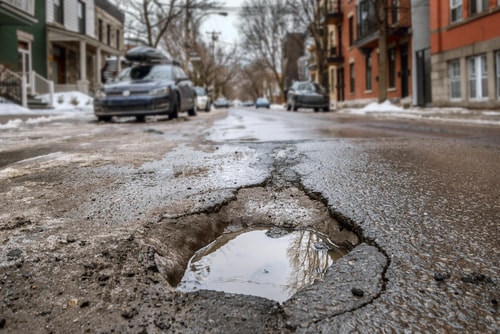 From driving in the northern states just once you will know that some of the roads look like a warzone littered with craters. Snow plows sometimes leave destruction in their path of snow-free road. Inevitably, potholes are just a part of commuting and they can wreak havoc on your car. There are many reasons why potholes exist: traffic, water and sudden changes in ground temperature cause the pavement to crack. After it is cracked, all it takes is a few passes of a vehicle running over top to cause the loose pavement to be kicked up and cause a pothole. Luckily for you, Stocker Subaru of State College Pennsylvania is here to inform you about what damage to look for after you have this misfortunate event.
Though it is obvious that hitting potholes should be avoided, sometimes that is not possible. Potholes shouldn't be seen as an obstacle in the to go around as this could result in the possibility of much larger dangers. Swerving to avoid them may seem like the best maneuver, but this should not be your first instinct. Instead you should just brace yourself- grab the wheel tightly because potholes can cause your vehicle to change direction suddenly. Nobody wants a damaged car, but remember that vehicles are replaceable and a life is not!
What To Do
First and foremost, you need ample reaction time to see potholes. This means don't tailgate! Secondly, slow down when you can't safely and subtly avoid them. Don't speed up to jump them or slam on the brakes. Instead, slow down then let off the brakes just before going over it to allow your suspension a full range of travel to absorb the impact. Keep a firm grip on the wheel, hold it straight and try to hit it square on- hitting it at an angle will do more damage.
Stocker Subaru of State College PA Will Help With The Aftermath
When the dreaded pothole damage happens, Stockers Service Center will help get your car back on the road. As the #1 among Subaru dealerships in PA we can fix you up fast. Whether it is a new alignment or a new tire, our professional staff is ready to help! Visit our site at www.stockersubaru.com to schedule a maintenance, or browse our inventory of new and certified pre owned vehicles.
Stocker Subaru
1454 Dreibelbis Street
State College, PA 16801
Phone: 814-568-3004
Website: https://www.stockersubaru.com/?ibp-adgroup=SE_Target