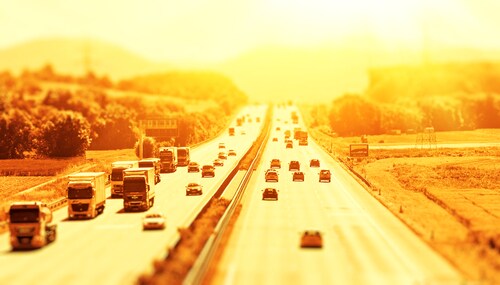 Did you know that proper car care can save up to $1,200 a year in emergency repairs? While temperatures inside a parked car can soar well over 100 degrees during the summer heat, we want to help you keep your cool. Below are some easy tips to help avoid the most common summer weather car problems without breaking a sweat. Good thing our service technicians at Stocker Subaru of State College Pennsylvania are here to help!
1) Flat Tire
More road construction and more summer traffic mean more flat tires can happen during the warm season. Make sure you know how to fix a flat yourself. Even better, make sure to check your tires regularly to avoid a blowout or flat.
Prevent It: Set a monthly repeating reminder in your phone to check your tire pressure. You can find a sticker on the inside panel of the driver side door that has the recommended PSI (pounds per square inch). Check the treads as well to make sure they're not worn out. Don't forget to check the air pressure in your spare tire.
2) Car Overheating
Keep an eye on the temperature gauge and watch out for an "engine overheating" message or lit radiator icon on your dashboard. You may also notice steam coming from the hood.
Prevent It: Check your coolant levels at the beginning of every season. Fluid should sit at or just below the FULL line on the overflow reservoir. If low, simply add a 50/50 mix of water and coolant.
3) Dead Car Battery
Although a dead car battery during winter is more typical, in fact, high temperatures can stress the internals of the battery and cause fluids to evaporate.
Prevent It: Have a professional check your battery, starter and alternator. And while it's OK to leave your devices charging for a few hours with your car off, if you leave them plugged in overnight it's not uncommon that you'll need to jump start your battery the next morning.
Stocker Subaru Knows How To Keep You On The Road
Our top-notch Stockers service technicians of State College Pennsylvania are here to make sure your #Subaru always runs its best. And while you're here for service, we invite you to check out our inventory of new models, including the sporty BRZ and the well-rounded Outback. We also carry the most reliable selection of used cars for sale in PA. To schedule a service appointment online or see our complete line of vehicles, visit our website at www.stockersubaru.com
Stocker Subaru
1454 Dreibelbis Street
State College, PA 16801
Phone: 814-568-3004
Website: https://www.stockersubaru.com/?ibp-adgroup=SE_Target